LightFoot™ Stabilizer Base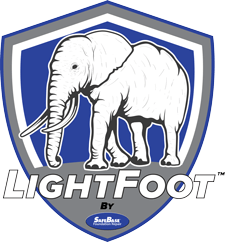 The LightFoot™ Stabilizer base (patent pending) is a revolutionary new stabilizer footing. Able to hold more than 10,000 lbs. this lightweight (only 8lbs.) footing can be easily maneuvered into limited access areas where concrete footings would prove difficult to install. This unique footing uses high strength polyurethane foam and is designed to be paired with any SafeBase™ stabilizer. Installation is quick and a full load can be achieved after just 15 minutes. Save your back, save some time and save your foundation from failure.
LightFoot Benefits
Quick - Full load capacity in 15 minutes
Lightweight - Weighs only 8 lbs. and improves installation in limited access areas
Strong - Tested to go beyond 10,000lb capacity
Adaptive - Can be used in a wide range of scenarios
Photo Gallery
Click on an image to enlarge it.
Products
---
Brochure
---