Remove Water, Reduce Hydrostatic Pressure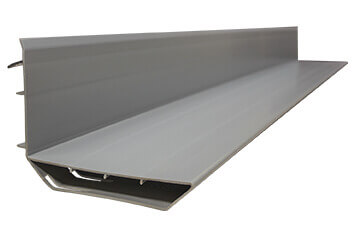 SafeDrainTM water control systems are specifically designed to solve basement wall water problems. As with all SafeBasementsTM Waterproofing Products, they have our rubber seal which allows water to pass into the system but minimizes dangerous soil gasses (Radon) from entering the living area of the home. All SafeBasementsTM waterproofing systems are designed to work in conjunction with radon mitigation systems.
The SafeDrainTM Waterproofing System's lower profile and wider design allows for a 100% thicker layer of concrete to be placed over the repaired area without compromising reduction of hydrostatic pressure, nor the flow rate of the draining water. This added strength at the repaired area is substantial and will aid in maintaining a permanent repair without common failure rates in a thin layer of concrete common in most footer drain systems. The patented design of the SafeDrainTM with the rubber seal on the back, which presses against the basement wall, provides the best possible solution to not only drain away the hydrostatic pressure but also seal out excess moisture and soil gases.
SafeDrainTM Benefits
‍ The SafeDrainTM system has a low profile wider design
‍ This design allows for adequate floor thickness to be poured back over the SafeDrainTM once the installation is complete
‍ The SafeDrainTM system's wider design allows for adequate water flow while reducing hydrostatic pressure
Installation Procedure
Concrete is removed around the perimeter of the basement.
The footing is cleaned, removing soil and gravel.
Weep holes are drilled in the block cells and mortar joints.
SafeDrainTM system is installed on top of the exposed footing.
SafeDrainTM system is attached to the sump system.
Concrete is restored.
Photo Gallery
Click on an image to enlarge it.
Products
---
Brochure