The Best Just Got Better!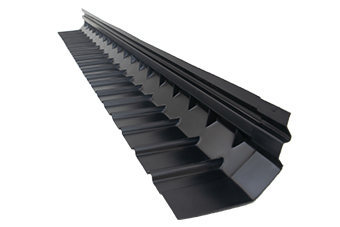 Our patented SafeEdge MAXTM provides all the same advantages as SafeEdgeTM, and more.
It has three main goals:
To create a semi-sealed waterproofing system
To make a structurally stable connection between the footer and wall
To provide optimal drainage of water into the sump system
In addition to these, SafeEdge MAXTM (patented) comes in 5 ft. lengths and has overlapping seals. Our design has a closed cell foam seal on the back which presses against the wall and prevents moisture and soil gases from entering your home or building. It's also part of the SafeBasements™ Waterproofing System.
SafeEdge MAX™ Benefits:
‍‍ Minimizes airflow between the edge and wall
‍ Radon mitigation ready
‍ Overflow protection
‍ Allows drainage from wall condensation into tile system
‍ Semi-sealed system improves indoor air quality
‍ Foam backing can hold vapor barriers in place
‍ High water flow allowance can prevent flooding
‍ Increased wall and footer contact points provide optimal structural stability
Photo Gallery
Brochure