Energy Efficient, High Flow Sump Pumps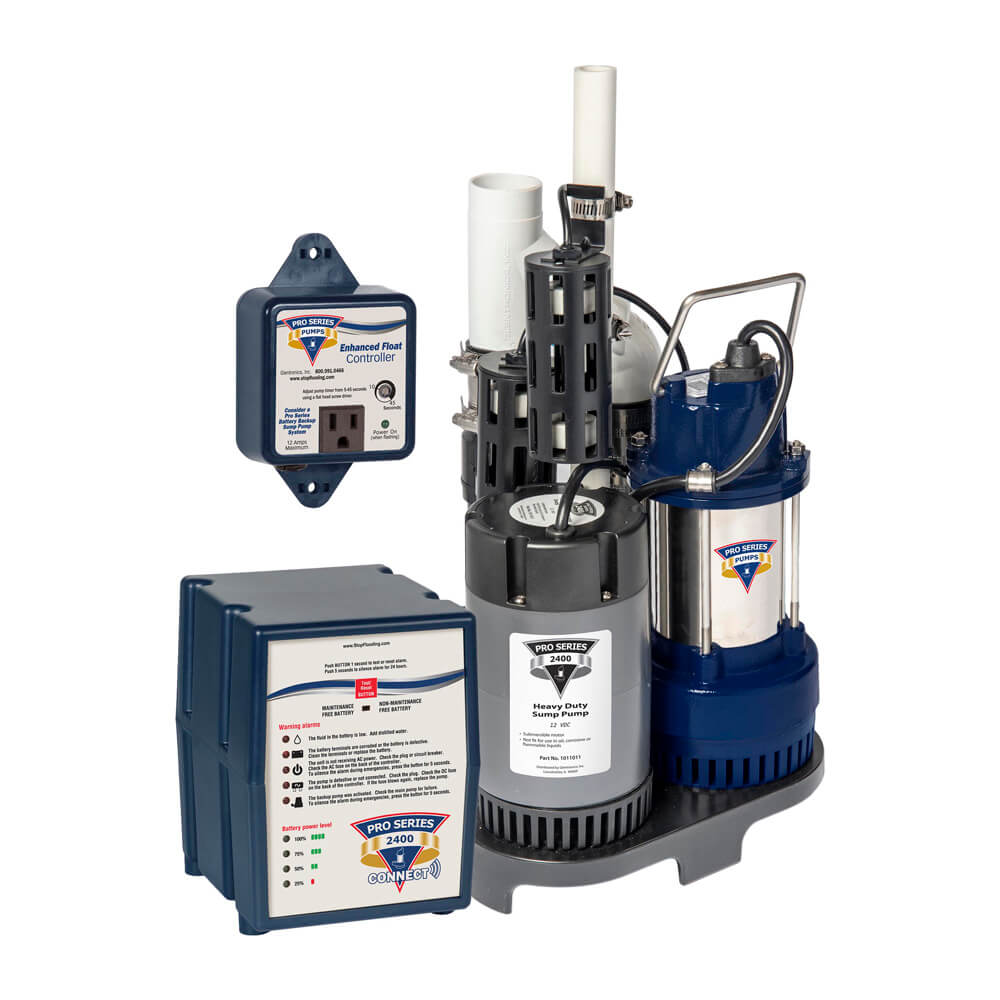 SafeBasements™ partnered with Glentronics to offer the PHCC Pro Series line of sump pumps to our dealers. These sump pumps feature the most modern, energy efficient, and high-volume pumping in the industry, and with great product support. Their intense focus on improving their products for the benefits of customers, makes them the industry leading provider of primary sump pumps, battery backups, sewage pumps, and accessories.
The PHCC Pro Series pumps offer up substantial energy savings over competitive pumps, all while pumping more water than competitive 1/3 hp pumps. Their pumps feature advanced dual magnetic switches, which not only provide a redundancy in the switch, but also have no moving parts to wear out. 90% of all competitor pump failures are due to the failures of switches with moving parts.
Sump Pump Packages
Click a line of sump pumps below to learn more about their features and benefits.
Primary Sump Pumps
The majority of the PHCC Pro Series primary pumps are built to run continuously 24 hours a day, seven days a week, 365 days a year. They are strong, dependable, and when they are used intermittently in a sump application, it extends the life of the pump. Glentronics offers their PHCC Pro Series Line of sump pumps with 1½ year, 3 year, and 5 year warranties when the pumps are used in intermittent applications.
PHCC Pro Series primary sump pump features:
Cast iron / cast aluminum construction
Energy efficient PSC motors
Continuous duty rated
Backup Sump Pumps
When you need a reliable battery backup sump pump for emergencies, we recommend installing the PHCC Pro Series backup sump pumps. The PHCC Pro Series backup sump pumps have a unique monitoring system that sound an alarm when maintenance is needed, or when a problem arises. The PHCC Pro Series backup sump pumps monitor all these functions and remind the homeowner when attention is needed. Easy to follow instructions are found on the front panel of the controllers to make proper adjustments.
PHCC Pro Series backup sump pumps protect against:
Power outages
Primary pump failures
Float switch failures
Excessive inflow of water
Combination Sump Pumps
The PHCC Pro Series, "Pair of Pumps" combination systems, couples an energy efficient primary sump pump and battery backup sump pump into one compact system. The primary pump operates off AC power. If the power is interrupted, or more water is coming into the sump than the AC pump can handle, the backup sump pump will begin pumping automatically.
The units come pre-assembled for easy installation and include four float switches for ultimate protection. Two floats with the primary pump, and two floats with the backup.
Pre-Assembled for quick and easy installation
Energy efficient permanent split capacitor (PSC) motor
Continuous duty rated
Dual float switches on primary and backup pumps
Automatically switches to battery power when AC fails
Backup pump will assist primary pump if excessive amounts of water are entering the sump
Detects irregularities, sounds an alarm, and pinpoints problems and solutions on control panel
Maintains and recharges battery automatically
Alarm can be silenced during a power outage
Designed for use with maintenance or maintenance free batteries
3-year warranty
Water cooled
Sump Pump Accessories
We also offer various accessories for the sump pumps including:
SafeBasements™ Sump Pump Basket - These baskets are engineered to accommodate several situations. This basket extends the depth of the basin, as well as offering a shallower high-capacity basin, for applications where a standard round deep basin just won't work.

All basins include a sealed clear polycarbonate lid to lock in moisture, soil, gases, and bugs. The clear lid allows for easy visual inspection of the sump pumps and basin.

PHCC Pro Series Standby Batteries

- They are made to be drained and recharged, and they will last longer and perform better than an automotive or deep cycle battery in this application.

PHCC Pro Series Sealed Battery

- Maintenance-Free sealed, absorbed glass mat (AGM) compatible with all new PHCC Pro Series backup products. Run the pumps longer and for more hours per charge. Remain viable for more years, usually between 5 and 7.

Sump Stands

- Provides a solid base for a single or combo pump that keeps pumps out of dirt and debris.

PHCC Water Alarm

- Detects and alerts to the presence of unwanted water.
Photo Gallery
Click on an image to enlarge it.
Products
---
Brochure
---