Crawl Space Encapsulation and Waterproofing
Unfortunately, there's a lot that's bad with having moisture in a crawl space. High amounts of crawl space moisture lead to the destruction of your home's wood by fungi, insects, and termites. If the wood is dry in your crawl space area, then wood destroying organisms have no interest in any of it.
Even what is referred to as dry rot requires high levels of moisture in the wood to be active. Sometimes you might not even be able to see that the wood is wet or damp in any way. In fact, it can be completely invisible to the naked eye. That's why a waterproofing contractor will need to look at your crawl space area to determine whether or not it has a moisture problem.
Causes of Crawl Space Moisture
We will now look at the main entry points of moisture found in crawl spaces: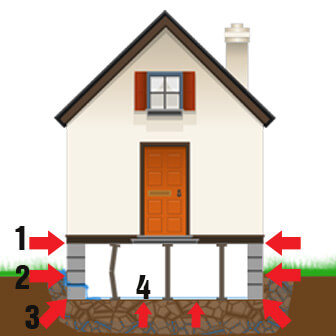 Gaps Where the Crawl Space Wall Meets the Home. Humidity and moisture can be drawn into your home by pressure. Since air flows upwards, moisture can be drawn into your crawl space area by any gaps or cracks. Think of the last time you opened a door in your home while the AC was on, and the hot air rushed in. This is in effect the same process, except when your crawl space is not sealed, the "door" is open all the time.
Poor Construction. Many homeowners think that since their home is newer, that they do not need to worry about crawl space repair, or crawl space waterproofing. New construction contractors rarely, if ever, completely seal off the crawl space area when the home is being built. After a short period of time, moisture can find its way into your crawl space, and begin to eat away at your foundation.
Gaps at the Crawl Space Wall and Floor. If your home has settled, there is a large chance there are gaps or cracks where the crawl space floor meets the wall. Rainwater can enter your crawl space due to hydrostatic pressure, and because of the fact that soil never fully goes back to its original density once excavated.
From the Crawl Space Dirt Floor. This is one of the most important areas to make sure is sealed, and to keep moisture out. Water that is in the soil will sit under your home, causing humidity and a perfect moist environment for mold growth. Once mold begins to form, it will feed on any organic food it can find, including your wooden foundation support beams.
SafeBasements™ Crawl space Waterproofing Components
Fixing It Once, Fixing It Right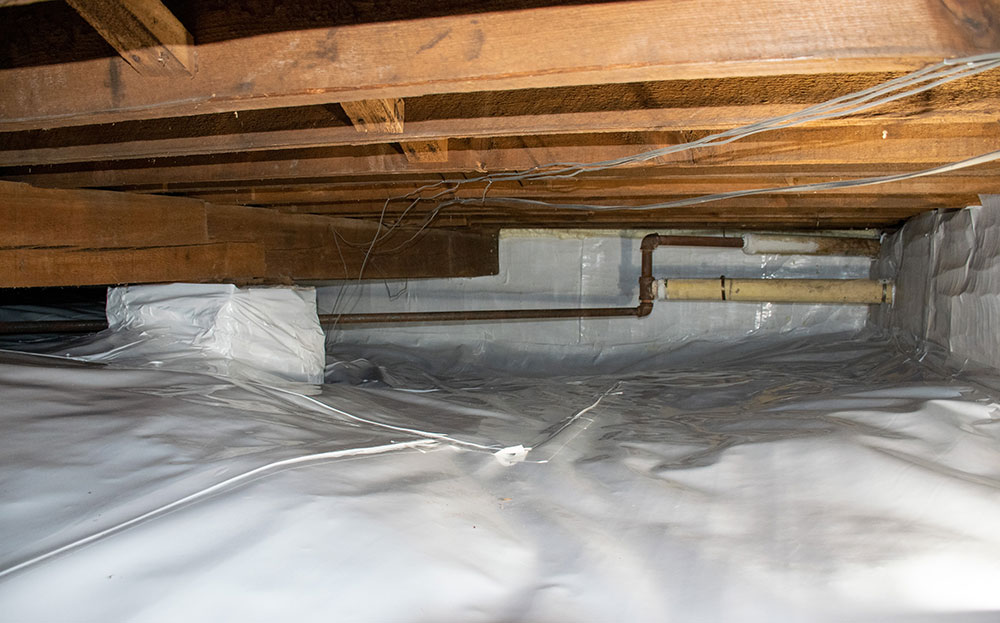 A dirt crawl space is the #1 source of moisture in any home, letting in gallons of water each day in the form of water vapor. The Healthy Living Encapsulation System™ will eliminate this source of moisture, and rid your home of musty odors from mold and mildew. Our crawl space Waterproofing System stops radon gases from entering your crawl space, due to its sealed design. To drain the water and dry the soil in your crawl space, we use tough multi-flow tile. This tile is attached to the sump basket where the water is then pumped outside the home, and away from your foundation and crawl space area. SafeBasements™ installs drain fabric with every system, which prevents the floor liner from sticking to the soil. This product is designed to enhance water drainage beneath the floor liner, and due to its 100% polypropylene construction, will not break down or rot, unlike conventional fabrics. Depending upon your location, SafeBasements™ has different liners, for different needs. For colder areas of the country, we offer radiant and heat retaining liners to hold the heat in your home, reducing heating costs. All Safebasements™ products are Antimicrobial, and constructed from fire-retardant materials.