The Best Waterproofing and Foundation Repair Contractors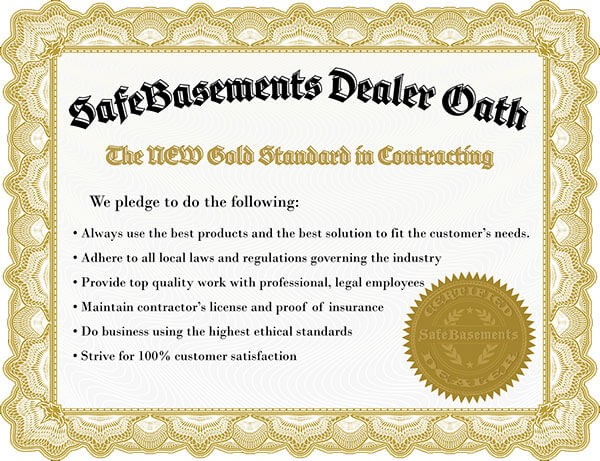 The SafeBasements™ Gold Standard Dealer Network is a group of carefully selected contractors working to only offer the best products and services. Safebasements™ only accepts members that pass strict requirements and agree to fulfill ongoing educational training, and maintain an excellent reputation in their service areas.
Not just any repair contractor can become a member. We take the time to qualify each contractor to ensure proper and efficient installation for all our basement, foundation, crawl space, and concrete repair products. All SafeBasements™ products are only available through our dealers.
---
Many of our competitors are more marketing driven companies, offering very slick collateral material, large teams of sales results based dealers. Our opinion is we'd rather have a small group of very well trained foundation experts than a huge dealer network of both good and not so good members.
SafeBasementsTM treats every customer's project as a unique situation that requires a full assessment and proper analysis to ensure the "best" solution for each project. We base our business on the customers real needs. The customer service all our members provides is beyond compare.
---
We suggest you take the time to really learn about the credentials of the individual assessing your structural repair problem - ask about their years in the business, training, and request a list of prior clients for reference. The reason we do not allow just anyone to purchase our products is that proper installation is a vital part of our products working properly. We know that improper use of a product can not only frustrate or disappoint a consumer but it can also be very counterproductive in fixing a problem with your basement or foundation. Fixing one problem improperly can often lead to creating another.
Calling one of the "Gold Standard" SafeBasementsTM dealers is a simple way to know you can be confident that your local SafeBasementsTM dealer will provide you a thorough foundation inspection and provide you accurate facts for you to make an educated decision about solving your foundation problem. We do not pressure or uses fear tactics - it is part of our code of ethics.
Once an agreement is reached for foundation repair to be done you can rest assured that your local SafeBasementsTM dealer using our exclusive patented products will solve your problem permanently and you'll be provided a written guarantee.