Permanently Addressing Poor Soil Conditions
The SafeBase™ Push Pier system is a permanent foundation repair solution addressing the foundation settlement problem. Poor soil conditions! Common solutions to address this issue would be to remove or replace the foundation. This is a costly method which will fail because the real issue has not been addressed. Unstable soil! The SafeBase™ Push Pier system addresses this issue by driving through the failing soil to the stable soil below.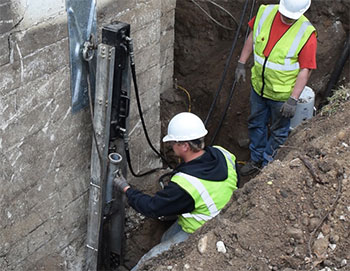 The SafeBase™ Push Pier system is a permanent solution that will not fail! SafeBase™ Push Piers are designed to stabilize and/or lift foundations by transferring the weight of the home from unstable soil to the suitable more stable soils below. This is achieved by hydraulically driving push pier sections through a bracket (which is attached to the foundation footing) until they reach stable soil. Stable soils are determined by load testing every pier as they are being installed. They are hydraulically driven until they reach the desired resistance, giving them a safety factor of two to three.
Our push pier system comes in several configuration including:
Standard duty
Light duty
Heavy duty
Commercial duty
SafeBase™ Push Piers Benefits
‍ Cost effective repair
‍ Permanent repair solution
‍ Each pier is load tested
‍ 25 year warranty
---
SafeBase™ Hydraulic Starter Packs
We also offer several starter packs for our piering systems:
Photo Gallery
Click on an image to enlarge it.
Products
---
Installation
---
Brochure
---