Divert Water Away Efficiently and Safely
The SafeBasementsTM Multi-Flow Drain Tile is engineered to address the flow rate of drain tile systems. Maintaining a slow and steady flow of the drain water is critical to maintaining the soil stability alongside your foundation's footer, the base that supports your foundation.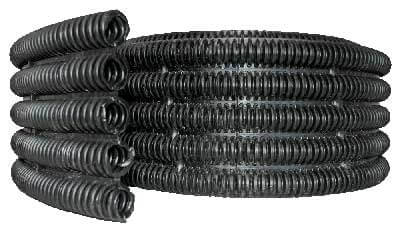 The typical 4" perforated drain tile used in a drain tile system, when half filled, creates a flow rate that draws the soil fines into the system and washes them out to your sump pit, which then is pumped away from the home. A half-filled 4" drain tile is typical in most homes during a heavy rain or snow thaw event.
This not only removes soil from the footer of your home but also shortens the life of your sump pump as the pump works harder to remove soil laden water through your water evacuation pipe. This situation is made worse when a drain tile system is installed at a sloping angle because it now accelerates the flow of the drain water, creating even more soil fines to be washed away from your footer.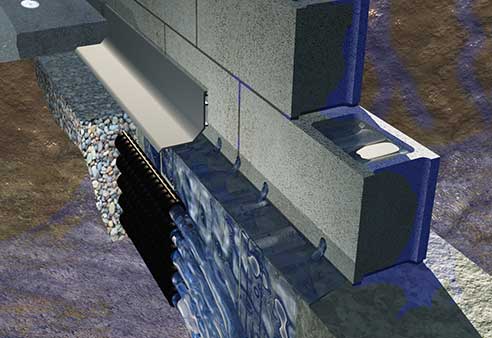 The SafeBasementsTM Multi-Fflow Drain Tile is installed level around the perimeter of the footer. This creates several positive engineering effects. First and foremost, it allows the Multi-Flow Drain Tile to take on water in 5 slow and steady stages. In severe water table situations, more stages can be added.
This "staging" allows for a slow and steady flow rate that maintains the water table under your home, at well below the slab. Keeping the water table well below the slab and maintaining the footer soils maintains a strong footer and lessens potential slab cracking created by hydrostatic pressure.
Multi-Flow Tile Benefits
5 tier system lets water move steadily to sump basket

No grading required, installs level

Larger surface area collection than 4" drain tile

Inspection and radon vapor ports easily tie in

Narrow vertical profile means less materials taken out and less gravel to backfill
Photo Gallery
Click on an image to enlarge it.
Products
---
Brochure